About Us
Gandhi Indian Restaurant is a Indian takeaway in Maidenhead. Why don't you try our Tandoori King Prawn or Chat Bashi?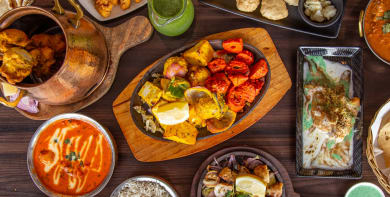 Reviews
208 reviews
Stephen
"Very good quality food and tasty. Prompt delivery, have ordered from Ghanaian a few times before and it's one of my favourites"
17/10/2020
Jayesh
"I have ordered several times from Gandhi . There vegetarian biryani is really good . It is packed full of vegetables ."
16/10/2020
Darren
"All good"
13/10/2020
Rumman
"Great service. Ordered madras, vindaloo and phaal. Good serving size and delivered hot and ready with poppadoms and chutney!"
13/10/2020
Menu
Tiger Prawns
Special king prawn from Bangladish,
in Asian spices then deep fried in hired ands
£6.95
Scampi
Clusters of scampi tails cooked with authentic
indian spices and sauteed potato
£6.95
Calamari
Deep fried calamari served with green beans and salad
£6.95
Garlic King Prawns
King prawns marinated in freshly blended garlic and herbs, then cooked in tandoor oven
£7.50
Crab
Deep fried crabmeat served with roasted potato and salad
£6.95
Mussels
Mussels cooked with mild spices served
with pumpkin strips in a creamy sauce
£6.95
Chef's Special Mix Biryani
King prawn, prawn, chicken and lamb
£15.95
Misti Aloo Bhaji
Sweet Potato
£6.95
Naga Lamb
The flavor you have never experienced before, exceptionally authentic flavor, suitable for hot curry lovers
£10.95
Maharajah Bhuna
Tandoori chicken tikka, lamb and chicken kebab, cooked with slice onions, green pepper, garlic and fresh herbs in a medium sauce
£9.95
Methi Lamb Bhuna
Pieces of tender lamb cooked predominantly with dried fenugreek leaves, fresh coriander and other spices, in a thick bhuna sauce
£10.95
Lemon Chicken
Well-spiced chicken cooked in a thick sauce with a squeeze of lemon and lime leaves
£9.95
Lamb Shank
The flavor you have never experienced before, exceptionally authentic flavor, suitable for hot curry lovers
£14.95
Gosht Kata Masala
Diced, boneless meat from the leg of spring lamb cooked with
braised onion, garlic and ground garam masala,
served in a thick sauce. Hot
£10.95
Hash Nasa
Oven roasted, sliced duck breast cooked in a
thick mild sauce
£14.95
Hash Sugandha
Oven roasted, sliced duck breast with
fresh ginger and garlic cooked with light ground
spices and garam masala
£14.95
Jaipur Chicken
Grilled strips of chicken breast, lightly pan-fried in ground spices with onion, green chili and pepper, Hot
£9.95
Chicken Rezala
Cooked with coconut & almonds powder and touch of yougrt
£9.95
Shatkora Chicken
Cooked with onion, special Bengali fresh lime,
touch of garlic in a medium spiced sauce
£9.95
Ananash Hash
Oven roasted, sliced duck breast, cooked in a
creamy coconut milk sauce, with ground spices,
lime leaves and pineapple
£14.95
Badami Murgh
Special chicken tikka from our tandoor oven cooked in coconut milk, lime leaves and mouthwatering creamy mild nutty sauce
£9.95
Achari Chicken
Sweet and sour, moderately hot sauce with
chef's special pickle touch
£9.95
Chicken Akbari
Diced chicken cooked in our chef's special
medium creamy sauce with boiled Egg
£9.95
Chicken Nargis
Chicken marinated in authentic tandoori spices cooked with roast onion, pepper and garnish with fresh coriander
£9.95
South Indian Garlic Chili Chicken
Chicken cooked in fresh garlic and chef's special chili sauce with fresh green chili
£9.95
Gandhi Chicken Special
Chef's secret hot spice
£14.95
Hariyali Murgh
Chicken cooked in a chef's special sauce contains fresh green chili and coriander paste
£11.95
Naga Chicken
The flavor you have never experienced before,
exceptionally authentic flavor, suitable for hot curry lovers
£11.95
Chicken Shampan
Chicken cooked with mango and other spices,
in a special mild sauce
£11.95
Kathal Chicken
Cooked with Jaddruit, Mild
£11.95
Badami Lamb Shank
Lightly spiced lamb shank or diced lamb cooked
in tandoor oven, then cooked in a creamy mild
exceptionally delicious nutty flavor sauce with lime leaves
£12.95
Badami Diced Lamb
Lightly spiced lamb shank or diced lamb cooked
in tandoor oven, then cooked in a creamy mild
exceptionally delicious nutty flavor sauce with lime leaves
£12.95
Makhanwala Lamb Shank
A superb creation of chef, cooked in a butter
almond sauce with fresh cream and mild spices
£12.95
Lamb Chop Bhuna
Lamb chop cooked with traditional
spices in a chef's special hot bhuna sauce
£11.95
Pallack King Prawn
Medium
£13.95
Dopiaza King Prawn
Medium
£13.95
Rogan Josh Chicken
Medium
£8.95
Rogan Josh King Prawn
Medium
£13.95
Dhansak Chicken
Fairly Hot
£8.95
Dhansak King Prawn
Fairly Hot
£13.95
Pathia Chicken
Fairly Hot
£8.95
Pathia King Prawn
Fairly Hot
£13.95
Balti King Prawn
Fairly Hot
£13.95
Paneer Shashlik
Succulents' pieces tikka, grilled in tandoor oven served with grilled tomato, onion and pepper
£11.95
Chicken Shashlik
Succulents' pieces tikka, grilled in tandoor oven served with grilled tomato, onion and pepper
£10.95
Vegetable Shashlik
Succulents' pieces tikka, grilled in tandoor oven served with grilled tomato, onion and pepper
£13.95
Tandoori Mixed Grill
Tandoori chicken, Chicken tikka, Lamb tikka, Chicken kebab, Lamb kebab, served with green salad and mint dip
£12.95
Lamb Shashlik
Succulents' pieces tikka, grilled in tandoor
ovenserved with grilled tomato, onion and pepper
£11.95
Chef's Special Khandani Grill
Tandoori lamb shank, Chicken kebab, Chicken Tikka, Lamb chop, seved with green salad and special tamarind sauce
£16.95
Duck Shashlik
Succulents' pieces tikka, grilled in tandoor
ovenserved with grilled tomato, onion and pepper
£12.95
Chat Supreme Chicken
Cube of grilled chicken or roasted potato pan-fried with
onion, chopped tomato and cucumber with exotic spices,
served with special puree bread
£4.95
Chat Supreme Potato
Cube of grilled chicken or roasted potato pan-fried with
onion, chopped tomato and cucumber with exotic spices,
served with special puree bread
£4.50
Chat Bashi
Mushroom's head cooked in a chef's special sweet and
sour sauce, touch of garlic sauce served with
special puree bread
£4.50
Goa Green Fish Curry
A mild monk fish curry, cooked in coconut milk, in a variety
of fresh herbs, spices and lime leaves with a dash of fish
sauce and green beans
£13.95
Tandoori King Prawn Masala
£14.95
Bo-Al Fish Curry
Special Bo-Al fish cooked in a medium hot
curry with seasonal vegetables
£13.95
Garlic King Prawns
Tandoori king prawn, coated in garlic seasoning with spring
onion and fresh ground spices
£14.95
Fish Kofta Curry
Fish specially prepared into balls, which are then cooked in a
medium hot curry sauce with potato
£13.95
Shorisha Sea Bass
Deep-fried sea bass cooked with niusurd
sees and Asian spices, served in own
£14.95
Seafood Bhuna
An infusion of king prawns, scallops, baby squid, cuttlefish,
red mullet, cooked in our chef's special stock with a
blend of spice and herbs
£13.95
Lobster
Served with special Bangladeshi sauce in greens
£25.95
Taja Fish Bhaja
Special Bo-Al fish with garlic, slice of capsicum with crisp fried onion sparkling on the top
£13.95
Nijum's Mix Kebab
Chicken tikka, Sheekh kebab, chicken kebab
Iamb tikka served with green salad
£8.95
Gandhi Special Starter
Salmon tikka, Special chicken tikka, Lamb kebab
Suffed mirchi in a chef's special sauce served with green salad
£10.95
Kids Chicken Tikka Meal
Indian style for kids only
£8.95
Kids Happy Platter
Indian style
£8.95
King Prawn Shashlik
Peeled king prawns, delicately spiced, skewered & cooked in the tandoori, along with capsicum, tomato & onions. Garnished with fresh coriander
£13.95
Monk Fish Tikka Main
Portions of monk fish lightly marinated in a tikka paste. Grilled & cooked in the tandoori oven. Served with green salad
£14.95
Tandoori King Prawn
King prawn marinated in special sauce, skewered & grilled in the tandoori oven. Served while still sizzling with garnish
£13.95
Salmon Tikka
Portions of salmon lightly marinated in a tikka paste. Grilled & cooked in the tandoori oven. Served with green salad
£14.95
Machli Bahar
Varities of fish in chef's special Sauce
£15.95
Contact Us
Find Us
13 Boyn Hill Avenue, Maidenhead, SL64ET