About Us
Gandhi Indian Restaurant is a Indian takeaway in Maidenhead. Why don't you try our Tandoori King Prawn or Chat Bashi?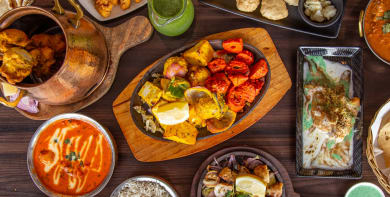 Reviews
188 reviews
Seb
"Great Indian takeaway, loved the Paneer Tikka"
28/11/2020
Daisy
"Fab food, quick delivery."
26/11/2020
Nigel
"Would be better if the food was in foil rather than plastic containers, but it was very nice"
14/11/2020
Michael
"Outstanding curry! Great service and fast too!!!!"
29/10/2020
Menu
Tiger Prawns
Special king prawn from Bangladish,
in Asian spices then deep fried in hired ands
£6.95
Scampi
Clusters of scampi tails cooked with authentic
indian spices and sauteed potato
£6.95
Calamari
Deep fried calamari served with green beans and salad
£6.95
Garlic King Prawns
King prawns marinated in freshly blended garlic and herbs, then cooked in tandoor oven
£7.50
Crab
Deep fried crabmeat served with roasted potato and salad
£6.95
Mussels
Mussels cooked with mild spices served
with pumpkin strips in a creamy sauce
£6.95
Chef's Special Mix Biryani
King prawn, prawn, chicken and lamb
£15.95
Misti Aloo Bhaji
Sweet Potato
£6.95
Naga Lamb
The flavor you have never experienced before, exceptionally authentic flavor, suitable for hot curry lovers
£10.95
Maharajah Bhuna
Tandoori chicken tikka, lamb and chicken kebab, cooked with slice onions, green pepper, garlic and fresh herbs in a medium sauce
£9.95
Methi Lamb Bhuna
Pieces of tender lamb cooked predominantly with dried fenugreek leaves, fresh coriander and other spices, in a thick bhuna sauce
£10.95
Lemon Chicken
Well-spiced chicken cooked in a thick sauce with a squeeze of lemon and lime leaves
£9.95
Lamb Shank
The flavor you have never experienced before, exceptionally authentic flavor, suitable for hot curry lovers
£14.95
Gosht Kata Masala
Diced, boneless meat from the leg of spring lamb cooked with
braised onion, garlic and ground garam masala,
served in a thick sauce. Hot
£10.95
Hash Nasa
Oven roasted, sliced duck breast cooked in a
thick mild sauce
£14.95
Hash Sugandha
Oven roasted, sliced duck breast with
fresh ginger and garlic cooked with light ground
spices and garam masala
£14.95
Jaipur Chicken
Grilled strips of chicken breast, lightly pan-fried in ground spices with onion, green chili and pepper, Hot
£9.95
Chicken Rezala
Cooked with coconut & almonds powder and touch of yougrt
£9.95
Shatkora Chicken
Cooked with onion, special Bengali fresh lime,
touch of garlic in a medium spiced sauce
£9.95
Ananash Hash
Oven roasted, sliced duck breast, cooked in a
creamy coconut milk sauce, with ground spices,
lime leaves and pineapple
£14.95
Badami Murgh
Special chicken tikka from our tandoor oven cooked in coconut milk, lime leaves and mouthwatering creamy mild nutty sauce
£9.95
Achari Chicken
Sweet and sour, moderately hot sauce with
chef's special pickle touch
£9.95
Chicken Akbari
Diced chicken cooked in our chef's special
medium creamy sauce with boiled Egg
£9.95
Chicken Nargis
Chicken marinated in authentic tandoori spices cooked with roast onion, pepper and garnish with fresh coriander
£9.95
South Indian Garlic Chili Chicken
Chicken cooked in fresh garlic and chef's special chili sauce with fresh green chili
£9.95
Gandhi Chicken Special
Chef's secret hot spice
£14.95
Hariyali Murgh
Chicken cooked in a chef's special sauce contains fresh green chili and coriander paste
£11.95
Naga Chicken
The flavor you have never experienced before,
exceptionally authentic flavor, suitable for hot curry lovers
£11.95
Chicken Shampan
Chicken cooked with mango and other spices,
in a special mild sauce
£11.95
Kathal Chicken
Cooked with Jaddruit, Mild
£11.95
Badami Lamb Shank
Lightly spiced lamb shank or diced lamb cooked
in tandoor oven, then cooked in a creamy mild
exceptionally delicious nutty flavor sauce with lime leaves
£12.95
Badami Diced Lamb
Lightly spiced lamb shank or diced lamb cooked
in tandoor oven, then cooked in a creamy mild
exceptionally delicious nutty flavor sauce with lime leaves
£12.95
Makhanwala Lamb Shank
A superb creation of chef, cooked in a butter
almond sauce with fresh cream and mild spices
£12.95
Lamb Chop Bhuna
Lamb chop cooked with traditional
spices in a chef's special hot bhuna sauce
£11.95
Pallack King Prawn
Medium
£13.95
Dopiaza King Prawn
Medium
£13.95
Rogan Josh Chicken
Medium
£8.95
Rogan Josh King Prawn
Medium
£13.95
Dhansak Chicken
Fairly Hot
£8.95
Dhansak King Prawn
Fairly Hot
£13.95
Pathia Chicken
Fairly Hot
£8.95
Pathia King Prawn
Fairly Hot
£13.95
Balti King Prawn
Fairly Hot
£13.95
Paneer Shashlik
Succulents' pieces tikka, grilled in tandoor oven served with grilled tomato, onion and pepper
£11.95
Chicken Shashlik
Succulents' pieces tikka, grilled in tandoor oven served with grilled tomato, onion and pepper
£10.95
Vegetable Shashlik
Succulents' pieces tikka, grilled in tandoor oven served with grilled tomato, onion and pepper
£13.95
Tandoori Mixed Grill
Tandoori chicken, Chicken tikka, Lamb tikka, Chicken kebab, Lamb kebab, served with green salad and mint dip
£12.95
Lamb Shashlik
Succulents' pieces tikka, grilled in tandoor
ovenserved with grilled tomato, onion and pepper
£11.95
Chef's Special Khandani Grill
Tandoori lamb shank, Chicken kebab, Chicken Tikka, Lamb chop, seved with green salad and special tamarind sauce
£16.95
Duck Shashlik
Succulents' pieces tikka, grilled in tandoor
ovenserved with grilled tomato, onion and pepper
£12.95
Chat Supreme Chicken
Cube of grilled chicken or roasted potato pan-fried with
onion, chopped tomato and cucumber with exotic spices,
served with special puree bread
£4.95
Chat Supreme Potato
Cube of grilled chicken or roasted potato pan-fried with
onion, chopped tomato and cucumber with exotic spices,
served with special puree bread
£4.50
Chat Bashi
Mushroom's head cooked in a chef's special sweet and
sour sauce, touch of garlic sauce served with
special puree bread
£4.50
Goa Green Fish Curry
A mild monk fish curry, cooked in coconut milk, in a variety
of fresh herbs, spices and lime leaves with a dash of fish
sauce and green beans
£13.95
Tandoori King Prawn Masala
£14.95
Bo-Al Fish Curry
Special Bo-Al fish cooked in a medium hot
curry with seasonal vegetables
£13.95
Garlic King Prawns
Tandoori king prawn, coated in garlic seasoning with spring
onion and fresh ground spices
£14.95
Fish Kofta Curry
Fish specially prepared into balls, which are then cooked in a
medium hot curry sauce with potato
£13.95
Shorisha Sea Bass
Deep-fried sea bass cooked with niusurd
sees and Asian spices, served in own
£14.95
Seafood Bhuna
An infusion of king prawns, scallops, baby squid, cuttlefish,
red mullet, cooked in our chef's special stock with a
blend of spice and herbs
£13.95
Lobster
Served with special Bangladeshi sauce in greens
£25.95
Taja Fish Bhaja
Special Bo-Al fish with garlic, slice of capsicum with crisp fried onion sparkling on the top
£13.95
Nijum's Mix Kebab
Chicken tikka, Sheekh kebab, chicken kebab
Iamb tikka served with green salad
£8.95
Gandhi Special Starter
Salmon tikka, Special chicken tikka, Lamb kebab
Suffed mirchi in a chef's special sauce served with green salad
£10.95
Kids Chicken Tikka Meal
Indian style for kids only
£8.95
Kids Happy Platter
Indian style
£8.95
King Prawn Shashlik
Peeled king prawns, delicately spiced, skewered & cooked in the tandoori, along with capsicum, tomato & onions. Garnished with fresh coriander
£13.95
Monk Fish Tikka Main
Portions of monk fish lightly marinated in a tikka paste. Grilled & cooked in the tandoori oven. Served with green salad
£14.95
Tandoori King Prawn
King prawn marinated in special sauce, skewered & grilled in the tandoori oven. Served while still sizzling with garnish
£13.95
Salmon Tikka
Portions of salmon lightly marinated in a tikka paste. Grilled & cooked in the tandoori oven. Served with green salad
£14.95
Machli Bahar
Varities of fish in chef's special Sauce
£15.95
Contact Us
Find Us
13 Boyn Hill Avenue, Maidenhead, SL64ET